Permits Foundation launches new world map of mobile spouse and partner work authorisation
03 November 2020
A new interactive feature has today been unveiled on the Permits Foundation website. This map of partner work access legislation around the world is the only one of its kind, providing a hub of information on country legislation and key criteria on this particular issue. Government authorities and global mobility professionals can instantly identify those best practice countries which enable direct work access for dependants of mobile employees.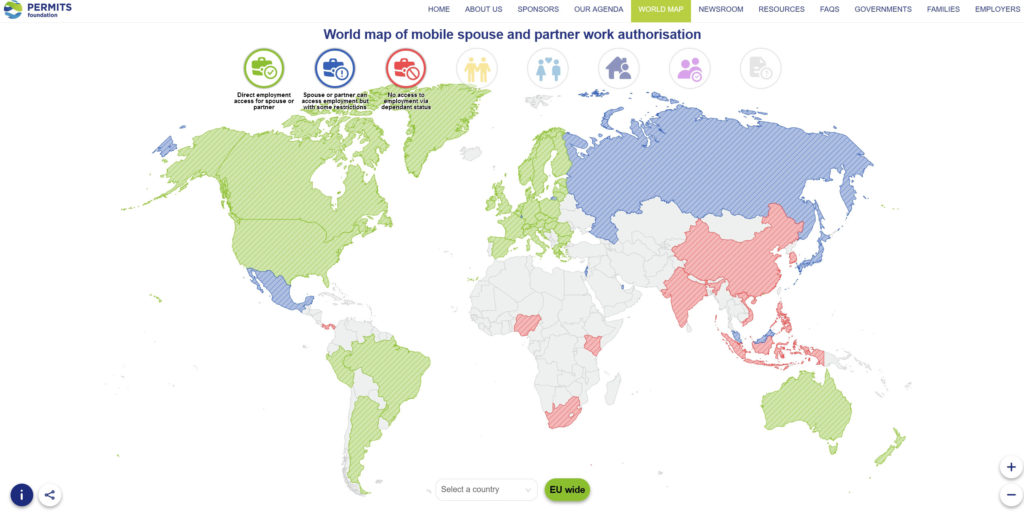 Click on the map for a larger image
Where there is at least one piece of legislation in a country that enables direct employment access for partners and spouses of highly-skilled mobile employees, the Foundation views that country as good practice and the country turns green. Where a country is blue, restrictions may apply. Where a country is red, work access may not be possible via dependant status.
The Permits Foundation world map also provides interactive information on a number of other categories including which destinations enable self-employment access for partners, where there is same-sex recognition, recognition of non-married partners and where other family members can access work.
In clarifying the parameters of the map, Permits Foundation Director, Helen Frew said: "we are looking to pinpoint those countries which allow direct access for spouses, partners and other family members. Direct access means that the dependant has open permission to work for any employer and without extra barriers to employment such as lengthy waiting times, procedures or permissions. This is a key factor affecting the success of a global mobility assignment. On the issue of partner employment access, we are therefore showing where companies can more easily attract and retain talent and which countries are a more attractive business destination. We will make the case to governments coming out of lockdown to consider this policy as a means to attract talent and investment in future."
Foundation Coordinator Françoise van Roosmalen added, "the map is intended as a helpful tool for our network and one which will grow to meet their needs. We prioritised destinations and created the criteria in response to the input from our sponsors and we continue to welcome feedback and contribution from companies who might want us to highlight a particular country. The map content will continue to develop with more countries being added as information about the employment situation for partners is available and where the Foundation carries out advocacy in the future – including in the Asia Pacific region and Africa."
The map is now available on the Permits Foundation website at www.permitsfoundation.com/worldmap
Notes to press:
Email contact@permitsfoundation.com for more information
The information contained in the world map is for general purposes only and should not be taken as  legal advice to individuals or organisations about working in a particular country. Government sites should be consulted for shorter term global mobility measures that may be imposed e.g. due to COVID-19.