New: Permits Foundation's 2022 Partner Survey Report now available!
17 October 2022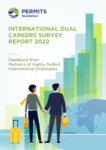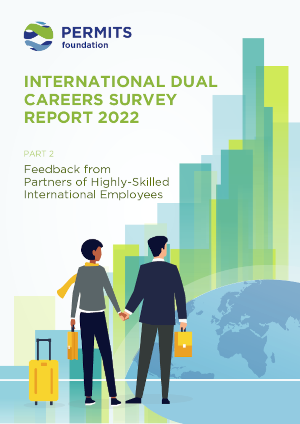 Part 2 of the Permits Foundation International Dual Careers Survey Report is now available! It reflects the views and experiences of partners of highly-skilled international employees at a time when organisations and mobile families were rapidly adapting to new ways of working.
The results confirm that where there is a direct, clear and efficient process that allows partners to work in the host country, employers can better harness talent, countries become more attractive business destinations and families experience improved health, well-being and integration outcomes.
The report reflects feedback from 730 spouses and partners, with representation from 67 nationalities, in 103 host countries and with 130 employers cited from both public and private sectors.
Key data:
76% of respondents were female (85% in 2008)
88% of respondents held a bachelor's degree or higher

53%

of partners were not in employment in the host country, 84% of those not employed wanted to be

26%

of respondents were considering leaving the host country due to work access restrictions

94%

saw countries that allow partners to work as more attractive relocation destinations

56%

of respondents said that not working had negatively impacted their mental health

67%

cited the importance of having a dual-income

30%

of partners would like to work remotely for an employer based in another country
Only

20%

had been given an opportunity to communicate their employment and career concerns with their partner's organisation
The report concludes: It is striking to see that 14 years after Permits Foundation's first widescale international dual careers survey, many of the headlines remain the same. Accompanying partners are themselves highly-qualified and with experience in a broad range of sectors. With dual career families on the increase, the expectation pre-move is that both members of the couple should be able to work once in host country. Yet in 2022, we still find ourselves facing some difficult facts. Less than 50% of respondents say they were in employment post-relocation. With women still making up the majority of accompanying partners, there is clearly more to be done to improve diversity, equity and inclusion in the global workplace.
The report follows publication of part 1 of the international dual careers survey report 2022 – feedback from global mobility professionals. All of the Foundation's reports and media are available here.